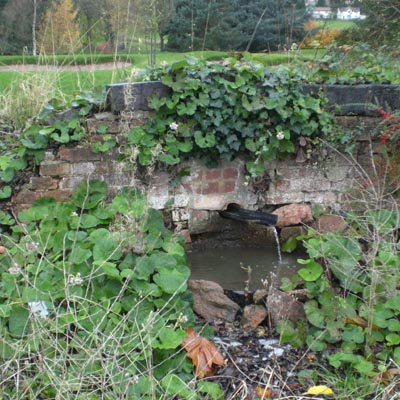 Golf Club Spout
NGR 77666 43326
Site Number: C79
By Bruce Osborne and Cora Weaver (C) 2012
Area 5. Malvern Wells Area Springs and Wells
Malvern Hills, England
Location:

on the west side of the Worcestershire Golf Club House car park, Wood Farm Road, Malvern Wells.
Description:

a spout emerging from a bank and flowing into an old cast iron tub.

This attractive spout can be seen at the north end of the club house and is situated in a flower bed. Nothing is known of its history. The spout is fed from a spring which is located 300-400 yards to the south west, in a field. This field spring has been contained but was in a state of disrepair in 2004.

The spout suffered somewhat with the rebuilding of the Club House in 2004. A change of levels and relocating the car park next to the spout meant that it became partially buried. Friends of Malvern Springs and Wells however orchestrated a renovation of the source and landscaping around the spout with the result that it was back in water in 2005. By 2009 however it looks in a rather sorry state and would benefit from a face lift.

Close to the spring is the massive above ground iron tank built during World War II, c.1943, to supply the Ministry of Defence army hospital known as Wood Farm Camp which was nearby and would have been fed by spring water. The tank is no longer in use and there was talk of removing it. It was still in situ in 2009.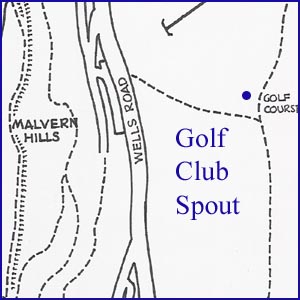 Illustrations:
1. The spout, the iron basin remains concealed.
2. Renovation of the spring 2005.
The map alongside is a small section of our more comprehensive map of the area. For the complete map together with a description and history of this site see "Celebrated Springs of the Malvern Hills" (2012).
Click on web site below or the top banner to go to the Site Index.
Website:
Click Here
SUPPLEMENTARY INFORMATION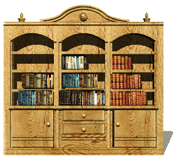 Celebrated Springs of
THE MALVERN HILLS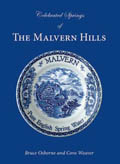 A definitive work that is the culmination of 20 years researching the springs and wells of the Malvern Hills, published by Phillimore. This is the ideal explorers guide enabling the reader to discover the location and often the astounding and long forgotten history of over 130 celebrated springs and wells sites around the Malvern Hills. The book is hard back with dust cover, large quarto size with lavish illustrations and extended text. Celebrated Springs contains about 200 illustrations and well researched text over a similar number of pages, together with seven area maps to guide the explorer to the locations around the Malvern Hills. It also includes details on the long history of bottling water in the Malvern Hills.
Written by Bruce Osborne and Cora Weaver, this book is available on-line for £15.00 (delivered UK) - click Malvern Bookshop on the green panel top left. Alternatively send a cheque payable to Cora Weaver with your name and address to 4 Hall Green, Malvern, Worcs. WR14 3QX.
1) TOPOGRAPHICAL LOCATION:
Malvern Hills - arguably Britain's original National Park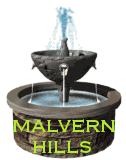 2) LANDSCAPE:
Farmland
3) INFORMATION CATEGORY:
A Spring, Spout, Fountain or Holy Well Site
4) MALVERN SPRING OR WELL SITE DETAILS:
4 SPLASHES - Well Worth Finding

5) GENERAL VISITOR INFORMATION:
Access By Road
Free Public Access
Free Parking Nearby
Disabled access