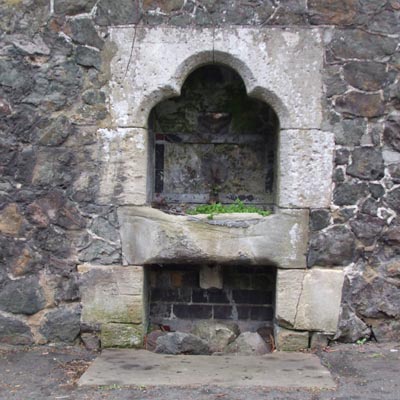 Tyrol House Fountain
NGR 77247 41631
Site Number: C75
By Bruce Osborne and Cora Weaver (C) 2012
Area 5. Malvern Wells Area Springs and Wells
Malvern Hills, England
Location:

in the front wall of Tyrol House, Wells Road, Malvern Wells, opposite the Abbey International College.


Description:

a dressed stone niche with spout and basin, with a dog trough below.

This little roadside drinking fountain was probably put here in 19th century for the benefit of passers-by: tradesmen travelling to and from Malvern; schoolchildren and church-goers; delivery boys and shoppers; and dogs. In August 1887 wealthy J.P Walter Stewart Broadwood of Ferney, Malvern Wells, offered to provide a fountain for the use of the neighbourhood 'near the larch plantation on the hillside between the Wyche and Winds Point'.[1]

The stonework and blue bricks suggest that it was built some time between 1880 and 1905 and may have been provided by the occupants of Tyrol House. The water came either from a hillside spring or the grounds of Tyrol House and flowed through an iron pipe into the fountain. The drinking cup has gone but its chain and a little shelf where the cup rested is still there. An overflow took excess water to the dog trough. It has all been dry for many years but the basin is often decorated with flowers and heathers and the dog trough with leaves and rubbish.



Illustration

:
1. Tyrol House Fountain.

Footnotes:
[1] MHC minutes, 8 August 1887
The map below is a small section of our more comprehensive map of the area. For the complete map together with a description and history of this site see "Celebrated Springs of the Malvern Hills" (2012).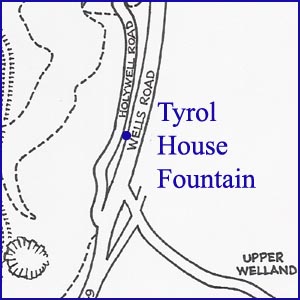 Click on Website below or the top banner to go to the DISCOVERY TRAIL INDEX of springs and wells.
Website:
Click Here
SUPPLEMENTARY INFORMATION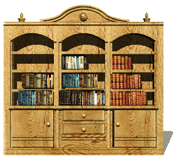 Celebrated Springs of
THE MALVERN HILLS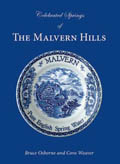 A definitive work that is the culmination of 20 years researching the springs and wells of the Malvern Hills, published by Phillimore. This is the ideal explorers guide enabling the reader to discover the location and often the astounding and long forgotten history of over 130 celebrated springs and wells sites around the Malvern Hills. The book is hard back with dust cover, large quarto size with lavish illustrations and extended text. Celebrated Springs contains about 200 illustrations and well researched text over a similar number of pages, together with seven area maps to guide the explorer to the locations around the Malvern Hills. It also includes details on the long history of bottling water in the Malvern Hills.
Written by Bruce Osborne and Cora Weaver, this book is available on-line for £15.00 (delivered UK) - click Malvern Bookshop on the green panel top left. Alternatively send a cheque payable to Cora Weaver with your name and address to 4 Hall Green, Malvern, Worcs. WR14 3QX.
1) TOPOGRAPHICAL LOCATION:
Malvern Hills - arguably Britain's original National Park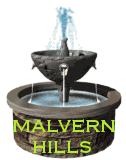 2) LANDSCAPE:
Rural Village
3) INFORMATION CATEGORY:
A Spring, Spout, Fountain or Holy Well Site
4) MALVERN SPRING OR WELL SITE DETAILS:
4 SPLASHES - Well Worth Finding

5) GENERAL VISITOR INFORMATION:
Access By Road
Access On Foot
Free Parking Nearby
Disabled access
Accessible All Year