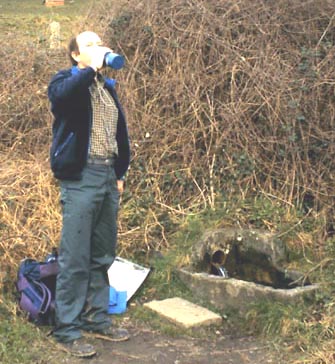 Chance's Pitch
NGR 74432 40178
Site Number: C59
By Bruce Osborne and Cora Weaver (C) 2012
Area 6. British Camp Area Springs and Wells
Malvern Hills, England
Location:

Near the roadside on the B4218, about 1 mile west of British Camp


Description:

a brick chamber with, formerly a roadside spout and stone trough

For many years there was here a substantial flow of spring water into a stone trough. It would have been an ideal refreshment stop for horses before hauling heavy loads up the long, steep Chance's Pitch.

Emerging from the Lower Ludlow Shales just under the Aymestry Limestone either from or near the geological fault in the locality, the spring rises near Ockeridge Farm, about 300 yards from the trough. It was contained for public use by the Eastnor Estate. In 1934 the water at the spout was measured as 6,840 gallons per day following rain [1], which was enough to supply Barton Court, Barton Farm, The Wellington Inn, and several nearby cottages.

It was almost certainly the grazing of horses in a nearby field that contaminated the water. The Barton Court Estate put up a notice advising people that the water required boiling. Someone took down the notice. The estate put up another notice. Someone took it down, so in December 2003 the spout and basin were sealed with a bricked inspection cover by the Barton Court Estate because of the fears of water contamination. This unfortunately means that walkers and cyclists can no longer fill their bottles.

Illustrations:


1. The roadside feature before it was sealed.
2. Cora contemplates how it looks today.

Footnotes:
[1] Richardson, L. 1935, The Springs and Wells of Herefordshire, p70.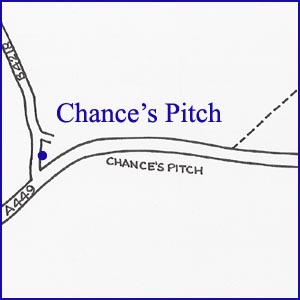 The map alongside is a small section of our more comprehensive map of the area. For the complete map together with a description and history of this site see "Celebrated Springs of the Malvern Hills" (2012).
Click on Website below or the top banner to go to the DISCOVERY TRAIL INDEX of springs and wells.
Website:
Click Here
SUPPLEMENTARY INFORMATION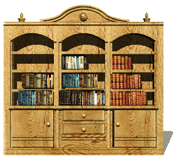 Celebrated Springs of
THE MALVERN HILLS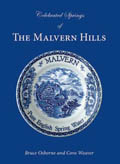 A definitive work that is the culmination of 20 years researching the springs and wells of the Malvern Hills, published by Phillimore. This is the ideal explorers guide enabling the reader to discover the location and often the astounding and long forgotten history of over 130 celebrated springs and wells sites around the Malvern Hills. The book is hard back with dust cover, large quarto size with lavish illustrations and extended text. Celebrated Springs contains about 200 illustrations and well researched text over a similar number of pages, together with seven area maps to guide the explorer to the locations around the Malvern Hills. It also includes details on the long history of bottling water in the Malvern Hills.
Written by Bruce Osborne and Cora Weaver, this book is available on-line for £15.00 (delivered UK) - click Malvern Bookshop on the green panel top left. Alternatively send a cheque payable to Cora Weaver with your name and address to 4 Hall Green, Malvern, Worcs. WR14 3QX.
1) TOPOGRAPHICAL LOCATION:
Malvern Hills - arguably Britain's original National Park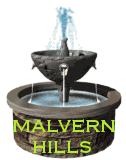 2) LANDSCAPE:
Rural Village
3) INFORMATION CATEGORY:
A Spring, Spout, Fountain or Holy Well Site
4) MALVERN SPRING OR WELL SITE DETAILS:
3 SPLASHES - Of Moderate Interest

5) GENERAL VISITOR INFORMATION:
Access By Road
Access On Foot
Free Public Access
Free Parking Nearby
Accessible All Year